Researched Nutritional, BLt™ - 4 oz Liquid
Herbal Tinctures with Advanced Phospholipid Absorption BLt™ was formulated by a physician & herbalist as a stand-alone or adjunctive support for vector-related issues. Combining science & technical botanical learnings with a powerful phospholipid delivery system, BLt™ provides the practitioner with balanced support with optimal absorption and patient response. May be combined...
Herbal Tinctures with Advanced Phospholipid Absorption
BLt™ was formulated by a physician & herbalist as a stand-alone or adjunctive support for vector-related issues. Combining science & technical botanical learnings with a powerful phospholipid delivery system, BLt™ provides the practitioner with balanced support with optimal absorption and patient response. May be combined with many pharmacological & nutraceutical preparations.
Microbial Support – the layering effect*
The body's internal terrain is composed of millions of microbes; many have a positive influence on the body while other pathogenic microbes adversely impact and degrade health. Maintaining a robust microbial balance is essential for optimal health.
When a patient is facing serious health challenges that are influenced by pathogens, the doctor may prescribe antibiotic therapy. However, prescription antimicrobials are not always tolerated or effective as a single therapy to achieve optimal health recovery. Many doctors find that nutritional support in the form of herbal microbial balancers may potentiate traditional antibiotic therapy. This "layering" strategy often provides the most comprehensive and synergistic outcomes versus a single therapeutic approach.
Balanced Organ Support

 

– developed to promote healing and multi-organ support
Peak Absorption

 

– phospholipid delivery complex for maximum nutrient absorption
Superior Herbal Extraction Process

 

– organic cane alcohol is the preferred extraction process for alkaloid containing roots & barks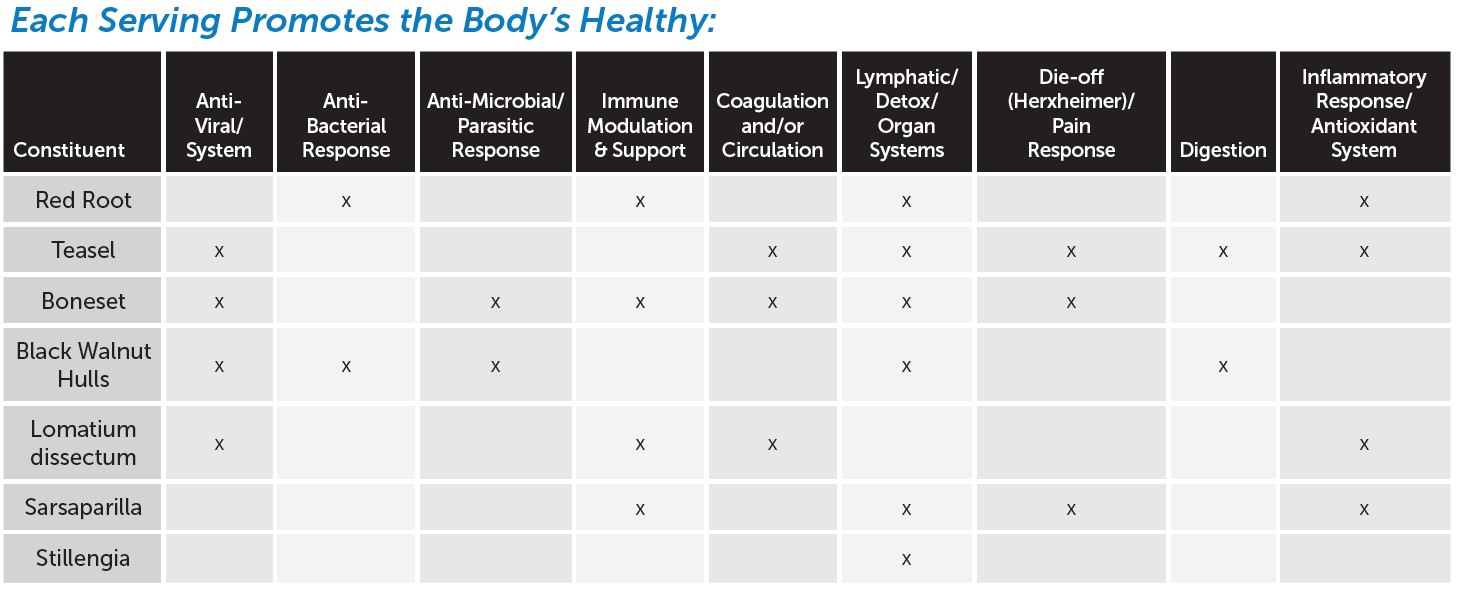 Use the chart below to determine the best tincture for your patient's needs.

Vegan
GMO-free
What to Expect: Patient reaction to these advanced microbial balancers is similar to what one experiences when starting immune support protocols: some patients experience a "Herxheimer" reaction while others do not. However, a patient who reacts to antibiotics and/or other nutritional protocols should start slowly.
Suggested Detox Protocol: As with other immune support protocols, doctors open detoxification pathways and provide binders to move toxins out of the body. Many doctors incorporate Tri-Fortify™ Orange (1 teaspoon per day) and PectaSol® (three capsules per day) for at least three days prior to commencing and during microbial treatment.
Suggested Use: As with any new nutritional supplement, patients should start slowly. For best results, take away from meals and add to 1-3 ounces of water. If the patient experiences nausea, have the patient dose the product 15-30 minutes after a light carbohydrate snack.
STARTING DOSE FOR ADULTS
Days 1-3

3-5 drops in 1-3 ounces of water in the morning and again in the evening

Days 4 & beyond

Increase 3-5 drops every other day, in both morning and evening doses
FULL DOSE FOR ADULTS
This would take 10-14 days to get to the full dose of 40 drops in each morning and the evening.
Another dosing strategy used by many doctors is to have patients work up to a double dose (80 – 90 drops twice per day).
SENSITIVE PATIENTS
Start with Detox Protocol mentioned above plus repeat 30 minutes before taking BLt™ and/or Crypto-Plus™ and/or Myc-P™.
Start with 1 drop in 1-3 ounces of water once per day, and slowly increase the dose as your body is able to do so.
2 hours after taking BLt™ and/or Crypto-Plus™ and/or Myc-P™, repeat Detox Protocol.
ULTRA SENSITIVE PATIENTS
Start by dosing every other day; consider having the patient swish in the mouth and spit out to minimize absorption.
Based on reported physician experience, pediatric dosing with children 8 years and older: start at 1-2 drops added to diluted apple or berry juice and work slowly up to 20-30 drops 2x/day over 2-3 weeks.
As each person's body responds uniquely to any nutraceutical/pharmaceutical product, it is important to follow your healthcare professional's dosing recommendations.
Cautions: Lomatium Rash is a rare but bothersome proliferation of raised red spots, not itchy or painful, that usually appears on the torso, and lasts sometimes as long as three weeks after discontinuing use of the herb. It is not immune mediated therefore does not respond to antihistamine or immune suppression such as prednisone. The rash usually only occurs once and does not reappear when lomatium is restarted. When patients slowly work up dose the rash is minimized. BLt™ is formulated to reduce the potential of the rash. Lomatium dissectum contains coumarin derivatives, which may increase the risk of bleeding when taken with drugs that increase the risk of bleeding. Do not use during pregnancy or nursing.
Agape Nutrition Inventory Update
We have received unprecedented demand across a wide range of categories as the impact of coronavirus COVID-19 has continued to spread over the past several months, and as a result, have experienced several availability issues.

We are working very closely with our manufacture and supplier partners to quickly increase availability across all product categories. We are now operating normally with intermittent out of stock levels, which generally do not last long and are quickly being replenished by our brand partners.
Please Be Aware of Any Possible Shipping Delays:

(1) Slight delays with fulfillment processing may occur as manufacture and distributor warehouses are experiencing higher than normal volume and demand for nutritional items.

(2) Shipping carriers are experiencing delays due to increased shipments resulting from the COVID-19 pandemic and/or combined with holiday seasons. Expedited shipping (2-Day, 3-Day, and Next-Day) are not guaranteed by the carriers and does not include weekend delivery. Please reach out to the shipping carrier for more information.

(3) Please be aware of severe weather conditions in or around your location and surrounding states that my affect the timeliness of delivery.
Orders cannot be cancelled once the order confirmation is received.
Agape Nutrition is proud to offer: United States Postal Service (USPS) and United Parcel Service (UPS) as our standard shipping carriers and their services. Shipping rates are determined in real time or carrier book rate by weight and distance. Shipping Options are determined and reflected upon check out, for your choosing. If an option below is not listed upon check out, your package may not meet the weight requirement or the service may not be available to the address location. You will receive an automated invoice of your order in your email inbox. Tracking is generally applied within 24 to 48 hours of receipt, unless otherwise notified.
We pride ourselves on providing fast service at competitive prices.
Orders received by 12:00 pm Pacific Standard Time (PST) are generally processed within 24 to 48 hours, which is dependent upon the daily order volume. Although, most orders are processed and shipped within 24 hours of receipt, this is not a guarantee. Tracking is updated within 24 to 48 hours after processing and the package has shipped.
USPS Holiday Schedule             Agape Nutrition Holiday Schedule                 UPS Holiday Schedule
USPS Services (Business Days)
UPS Services (Business Days)
1-3 Days
USPS First-Class Mail
2 Days
UPS 2

 

Day Air
1-3 Days
USPS Priority Mail
3 Days
UPS 3 Day Select
2-9 Days
USPS Parcel Select
1-7 Days
UPS Ground
Please Note: No Saturday Delivery.
FREE SHIPPING is offered to orders that meet or exceed $99, by applying the promo code: FREESHIP and click the ADD button upon check out. FREE SHIPPING is USPS Standard delivery service or UPS Standard Ground, if the first option is not available to your shipping location. Offer excludes specialty products and other discounts.
If FREE SHIPPING is not desired, simply do not apply the promo code. All available shipping options for your order will be displayed.
All discounts and promotional offers are calculated before shipping and handling rates are applied.
ORDER CANCELLATIONS
Orders cannot be cancelled or changed once the order has been placed and the confirmation is received.
Products may process and ship faster then expected.
Products may be automated to process directly after the order is confirmed.
Product warehouses may be in different states and time zones.
Orders may take up to 72 hours to process a cancellation or change. 
Products may ship faster then expected, and many are automated to process directly after order confirmation. We work directly with top professional manufactures and distributors from across the United States, in all time zones. There are a lot of cogs and wheels turning to process and ship your order efficiently to meet an on time delivery target. When you request a cancellation or change of an order, it may take up to 72 hours to process your request. This process may involve voiding orders in computer systems, removing items from back order logs, pulling items from production schedules and sometimes stopping orders at the shipping dock or warehouse. Our order fulfillment may be performed by many quick hands, in different states and time zones. Therefore, we cannot offer or guarantee order cancellations after the order has been received.
Payment Method
Orders should be placed via the web with payment by MasterCard, Visa, Discover, American Express, PayPal or Amazon Pay, etc.
Domestic Orders
Agape Nutrition is proud to ship to 62 states and territories of the United States.
All 50 United States
Armed Forces: Americas (AA)
Orders shipped to U.S. military addresses (APO/FPO/DPO) will ship via United States Postal Service (USPS) at the carrier book rate; delivery of these orders may be delayed by one (1) business day.
International Orders
Agape Nutrition does not offer international orders or shipping at this time, outside the 62 states and territories of the United States.
Heat Sensitive Orders
Products requiring shipment in a cool environment (perishable and frozen items) are subject to special shipping procedures due to their sensitive nature to ensure customers receive products in good condition. Heat sensitive items are shipped using sealed thermal bubble bag, ice pack or brick, resealable bag and extra padding to ensure a cool environment. We do not recommend heat sensitive item ship to territories of the United States, and we cannot be held responsible for cooled environment degradation to these destinations.
Agape Nutrition recommends that heat sensitive products ship with your preference of any 1-3 Day delivery service. We do not offer overnight or next day delivery service at this time. Saturday delivery is not available or guaranteed, unless offered by the shipping carrier as part of the normal delivery.
Please Note:
All heat sensitive items will ship on Monday and Tuesday only. This is the ensure that heat sensitive orders are delivered before weekends.
Heat sensitive items are not eligible for return, credit, or refund. As we cannot guarantee cool storage or efficacy of the product, after the order has been delivered.
Delays in shipping service delivery, caused an issue? See our return policy for further information.
Drop Ship Orders
Shipping may be different from the warehouse(s) we work with, however we do our best to match the pricing and type of shipping originally selected. Please note that some manufactures add 1-2 days for their processing times before shipping your order.
Signature is required for:
Orders of a high dollar amount.
Biotics Research NW shipments.
Vielight shipments.
Richway shipments.
All electronic devices.
All laboratory test kits.
Drop ship orders may be utilized in the following scenarios:
Out of stock in our dispensary.
Allows faster shipping time.
Special order items.
Drop ship only item.
Quantity Discounts
May be available on specific items only. Discounts will be available on the item order page, with the volume and discount clearly indicated.
We do not offer commercial entity fulfillment (wholesaler, distributor, re-seller). Orders are processed for quantities of personal consumption only. Accounts are monitored and deactivated for misuse, at Agape Nutrition's discretion.
Out of Stock Items
If an item ordered is out of stock with the manufacture or any warehouse we work with, you will automatically receive the remainder of your order.
We may:  search for another fulfillment warehouse in order to drop ship your item.
We may:  notify you if the item can be fulfilled within 1-2 weeks, so that you may choose to wait for fulfillment or cancel the order.
We may:  cancel the item or order for a full refund. You will be notified by email of any unfulfillable cancellations.
Package Delays
Please be aware of severe weather and hazardous conditions in your area or other states that may affect the timeliness of your package delivery. Agape Nutrition can not be responsible for severe weather and unforeseen incidents that may impact the processing times and/or shipping services. We will work to ensure the safety of our employees while minimizing effects on service. Contingency plans are in place to help ensure that shipments arrive at their final destinations as quickly as conditions permit.
Price Changes
All prices are subject to change without notice. Agape Nutrition is not liable for errors or omissions.