Researched Nutritionals, RibosCardio™ 15 oz
---
Supports Healthy ATP for Every Body
RibosCardio™ has been formulated, based on Steven Sinatra MD's work, with CardioPerform™, a potent blend of L-carnitine (transports fuel into the heart to be burned as energy) and Acetyl L-carnitine (Supports heart & brain health), plus D-ribose, malic acid, and magnesium gluconate to optimize energy production and synthesis. Published research shows D-ribose may be an effective adjunct in promoting cardiovascular, skeletal muscle, and neurological health. With heart patients, D-ribose has been found effective in restoring energy, improving ventilatory efficiency, oxygen uptake, stroke volume, diastolic function, physical performance, and quality of life.
Physician-reported Experiences
"I started my 84-year-old father on RibosCardio and CoQ10 Power 3 years ago. He's an active man and has really noticed an increase in energy and endurance, despite being diagnosed with a severe health issue over 6 years ago. After seeing those results, I've started several patients on this combination and am seeing impressive improvements in cardiac function and overall vitality."
— V. Hamman, ND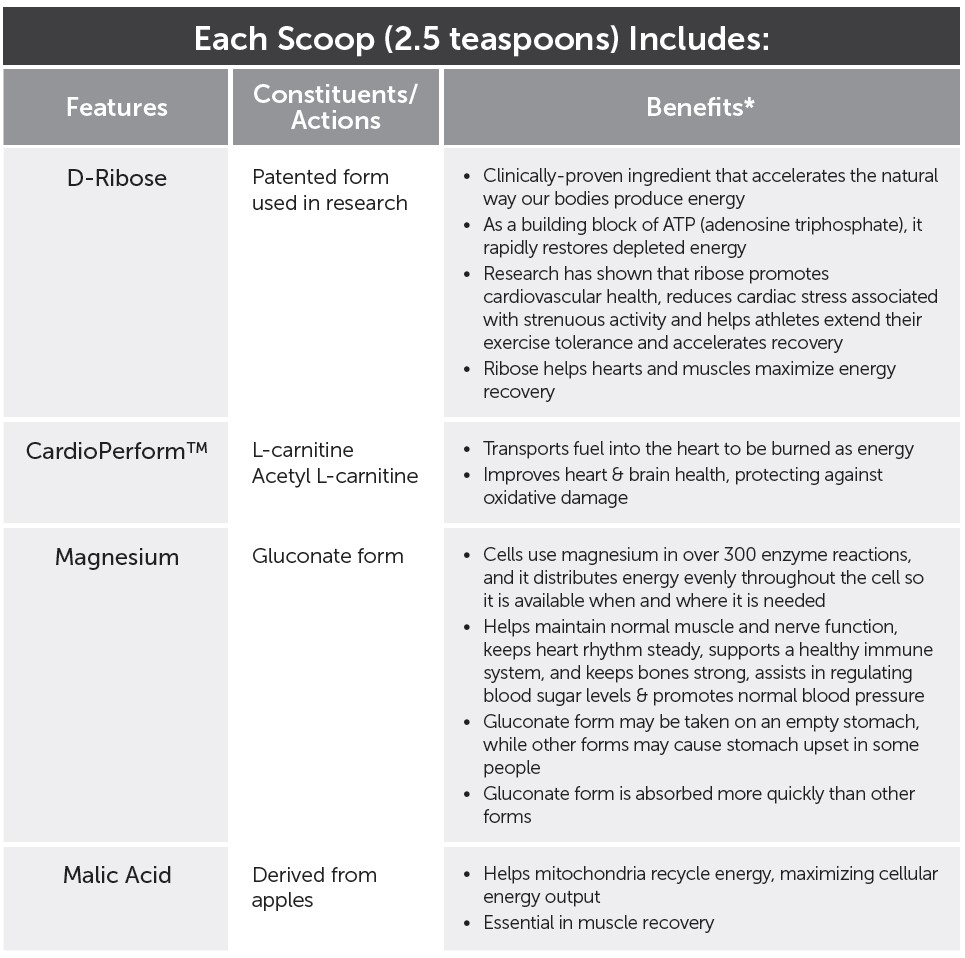 Vegan
GMO-free
Suggested Use:  Add one level scoop (two and 1/2 teaspoonfuls) to 4-8 ounces of your favorite juice, stir briskly and drink. As an alternative, sprinkle on cereal, fruit, or applesauce.
The normal dosage is twice daily. Up to 4 doses per day may be taken as needed. If moderate to severe symptoms are present, it is recommended that at least three doses per day be taken for the first two weeks before reducing the dosage to twice per day. For best results, all doses should be taken no later than 3:00 PM. Continued use is required to maintain the benefits of RibosCardio™
Cautions: Insulin-dependent diabetics, pregnant women, or patients with elevated uric acid levels should consult their physician before use.