Researched Nutritionals, InflaQuell™ 180 Capsules
---
Buffered Enzymatic Support
InflaQuell™ is a proteolytic enzyme system formulated to promote a healthy inflammation response by the body.
Uniquely formulated to promote a healthy inflammation response versus a general enzyme product formulated for both digestion and inflammation support
Buffered with ginger for your sensitive patients' stomachs
100% vegetarian formula removes the concerns about porcine or bovine based products
Works in a wide pH range (2.75 – 7.8), providing optimal absorption versus animal-sourced enzymes which work well only in a more alkaline medium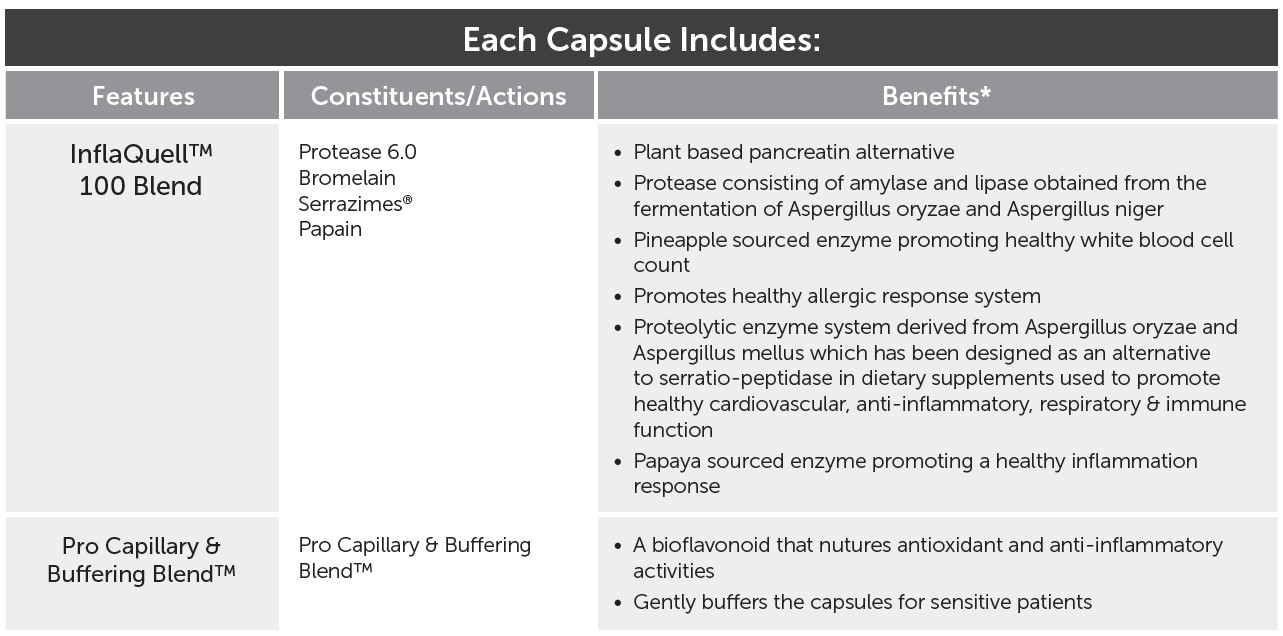 Ingredients
InflaQuell™ 100 Blend                        930 mg
(Protease 6.0, Bromelain, Papain Serrazimes® (endo/Exo protease))
Pro Capillary & Buffering Blend         450 mg
(Rutin, Ginger Rhizomes)
Other ingredients: Hypromellose (vegetable capsule), rice bran, water.
Contains Sulfites, wheat, soy & gluten.
Manufactured without milk, eggs, fish, crustacean shellfish, tree nuts, and peanuts.  Produced in a facility that may process other ingredients containing these allergens.
Vegetarian
GMO-free
Suggested Use: As a dietary supplement, take three capsules twice daily at least two hours after eating or one hour before eating, or as directed by your health care professional.
Cautions: 
This product may increase the absorption and distribution of certain pharmaceuticals. If taking prescription medication or if pregnant or nursing, consult your health care professional before use. Systemically used proteases have anti-thrombic actions. Persons with bleeding disorders, or those who are taking anti-thrombic medications, may experience increased clotting times. This product may irritate gastric ulcers.